Philosophy
Languages and cultures are the key of sustainable development
Vision
To be a leading international institute for research on languages and cultures for sustainable development
Mission
Research and Innovation
To produce excellence in research and social innovations in language and culture and to guide policies for sustainable development in line with the SDGs.
Pedagogy
To promote lifelong education and create educational innovations based on integrated research to develop the country's manpower with language and cultural skills.
Academic Services
To commit to academic services that build on expertise in research and education in language, culture, intercultural communication and creative arts and culture with standards that respond to the needs of society and create added value.
Strategic Networks
To enhance the creation of strategic alliance networks at national and international levels in research, education and academic services on a continuous and comprehensive basis.
Management for the sustainability of the organization and keeping pace with digital transformation
Promote digital adaptation and use of information technology to enhance the work and manage the organization.
Strategic Plan (2022-2026)
Strategy 1
To build research excellence and social innovations, and instruct language and cultural policies by expanding the network of cooperation with local communities, and national and international organizations for sustainable development.
Strategy 2
To arrange higher and lifelong education in line with the social demands through integrated educational innovations which meet international standards.
Strategy 3
To provide academic services for social development, and propel language, cultural and multicultural policies,
and creative arts and culture with added values.
Strategy 4
To manage the security and sustainability of the organization and keep up with the digital transformation.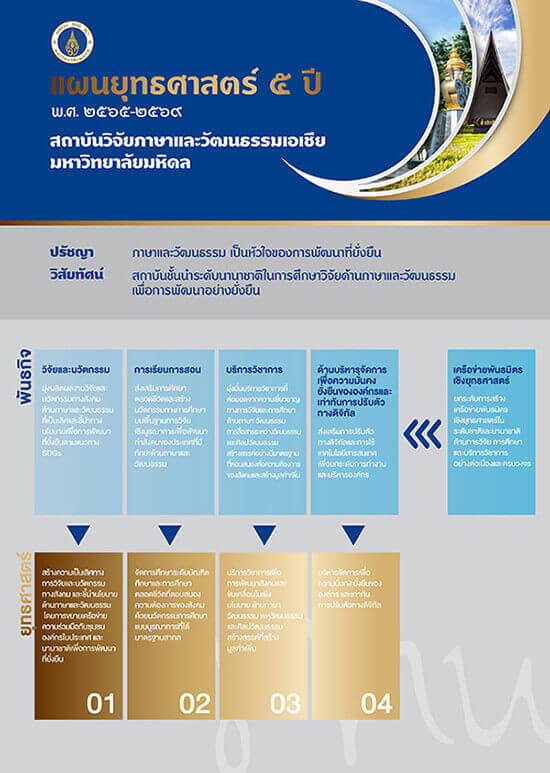 Download: Strategic Plan (2022-2026)
Annual Report