COURSE NAME : DOCTOR OF PHILOSOPHY PROGRAM IN LINGUISTICS
Course description
Southeast Asia is a region of diverse languages and cultures of numerous ethnic groups. The region is important historically and politically. Nowadays, Southeast Asia is becoming more and more influential in terms of economy, society, politics, education and technology. In Thailand, there is a policy to promote relations and cooperation with neighboring countries and hopefully move up on the ASEAN Community ranking to achieve prosperity and the exchange of knowledge in linguistics and cultures. To achieve that goal, the deepening of knowledge and understanding of the languages of neighboring countries is necessary. Moreover, the Thai government has issued a policy to improve the quality of life of the Thai people in all aspects of economy, society, and public health, which requires language skills as means to bring about deeper knowledge and understanding of different groups of people. The motto of the Research Institute for Languages and Cultures of Asia' is "Language and culture are at the heart of sustainable development." The institute is well prepared in terms of fundamental information, research, experience and personnel is implement the teaching and learning objectives of the curriculum. The most important mission of the Doctor of Philosophy Program in Linguistics is to produce graduates with a profound understanding and proficiency in the languages of various ethnic groups in Thailand and the languages of neighboring countries in Southeast Asia. The curriculum is designed to produce Ph.D. graduates with professional research skills in terms of language, culture, and development on the basis of morality and ethics, able to integrate various knowledge bodies and apply them to benefit graduate professional development and overcome corporate and social problems in the globalized world.
Course Highlights
Course content is up-to-date, covering the theory of linguistics and applied linguistics. Students can choose from a variety of specializations such as language technology, linguistics for sustainable education development, linguistics theories and schools of thought, and language and linguistics. Students can also choose to study in multidisciplinary topics.

The curriculum is flexible. It can be adjusted to suit both students and instructors in the form of a hybrid classroom.

The program encourages students to have direct experience in conducting research in languages and linguistics with guidance from instructors.
There is an opportunity for students to participate in foreign exchange programs.
There is an opportunity to exchange knowledge and keep abreast of research trends in language and linguistics with local and international experts.

Graduates will be able to apply the knowledge for the development of a multilingual and multicultural society and to promote the preservation of linguistic and cultural diversity on the national level and in the Asian region. This will lead to better understanding and respect for differences among groups in society.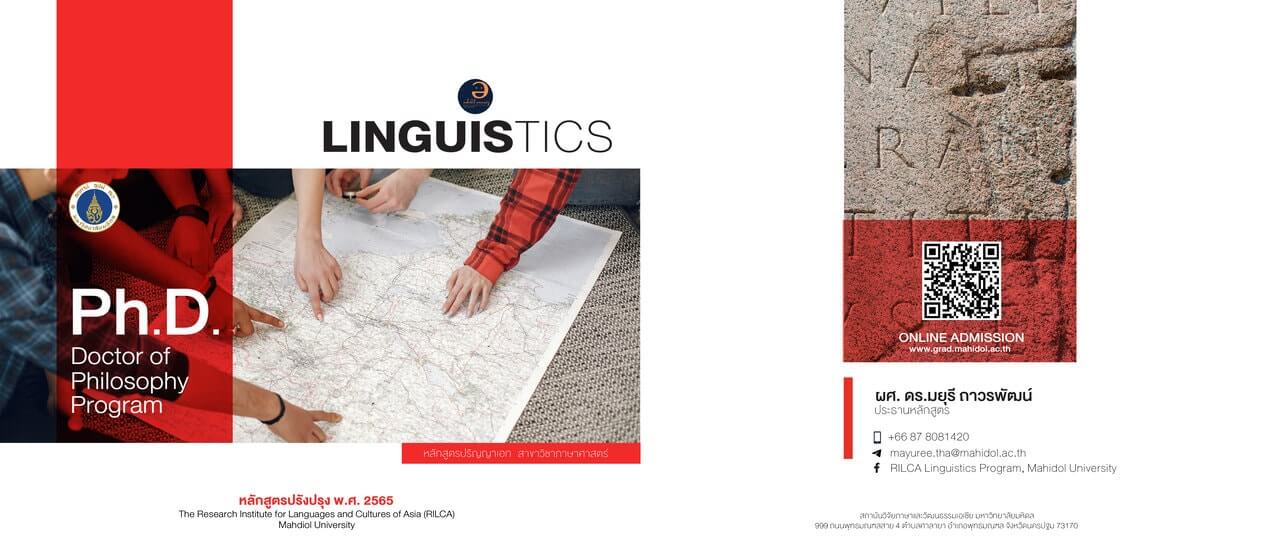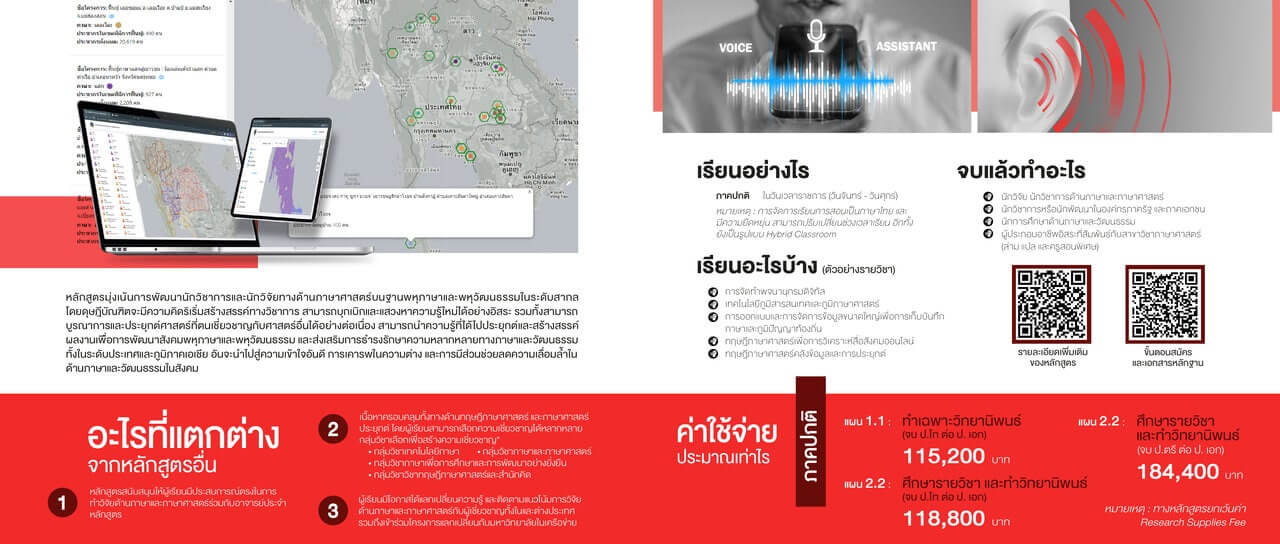 Course fee
| | |
| --- | --- |
| Type 1.1 (thesis only) For Master's degree holders advancing to doctoral studies | 115,200 |
| Type 2.1 (study courses and thesis for Master's degree holders and advancing to doctoral studies) | 118,800 |
| Type 2.2 (study courses and thesis for those holding a bachelor's degree and advancing a doctoral studies) | 184,400 |
| ** Remark : Research Supplies Fee is exempted. | |
Related occupation
Specialist in linguistics
Researcher in linguistics
Academics in public and private organizations
Independent careers related to the field of linguistics.
Course structure
ชั้นปีที่
สำหรับผู้สำเร็จการศึกษาระดับปริญญาโท สาขาภาษาศาสตร์
และเข้าศึกษาต่อระดับปริญญาเอก
สำหรับผู้สำเร็จการศึกษาระดับปริญญาโท สาขาวิชาอื่นๆ
ที่เกี่ยวข้องกับภาษา
1
ภาคเรียนที่ 1
ภาคเรียนที่ 1

วภภษ 607 สัมมนาวิทยาระเบียบวิธีวิจัย

*วภภษ 502 สัทศาสตร์และสัทวิทยา

วิชาเลือก

*วภภษ 505 วากยสัมพันธ์

*วภภษ 525 ภาษาศาสตร์สังคม

*วภภษ 607 สัมมนาวิทยาระเบียบวิธีวิจัย

วิชาเลือก

ภาคเรียนที่ 2
ภาคเรียนที่ 2

วภภษ 608 วิธีวิจัยภาคสนามทางภาษาศาสตร์

*วภภษ 532 ภาษาศาสตร์เอเชียตะวันออกเฉียงใต้

วิชาเลือก

*วภภษ 608 วิธีวิจัยภาคสนามทางภาษาศาสตร์

วิชาเลือก
2
ภาคเรียนที่ 1
ภาคเรียนที่ 1

สอบวัดคุณสมบัติ (Qualifying Examination)

สอบวัดคุณสมบัติ (Qualifying Examination)

วภภษ 699 วิทยานิพนธ์

วภภษ 699 วิทยานิพนธ์

ภาคเรียนที่ 2
ภาคเรียนที่ 2

วภภษ 699 วิทยานิพนธ์

วภภษ 699 วิทยานิพนธ์

3
ภาคเรียนที่ 1
ภาคเรียนที่ 1

ภภษ 699 วิทยานิพนธ์

ภภษ 699 วิทยานิพนธ์

ภาคเรียนที่ 2
ภาคเรียนที่ 2

ภภษ 699 วิทยานิพนธ์

ภภษ 699 วิทยานิพนธ์

*ไม่นับหน่วยกิต
Application
Admission
Consideration is based on application documents
Examination of specific subjects of the course
Interview
Application period
Applications are open throughout the year
Criteria for application
ELTS 3.0
TOEFL-iBT 32
MU GRAD PLUS (MU GRAD TEST + SPEAKING) 40
MU GRAD TEST 40
*Candidate must have a minimum English language score to apply. (for cases where there are no score, it will depend on consideration by the course committee)
**Non-Thai students must have Thai language test results according to the criteria set by the Graduate School.
รายละเอียด-2
สำเร็จการศึกษาระดับปริญญาตรี สาขาภาษาศาสตร์ หรือสาขาอื่นๆ ที่เกี่ยวข้องกับภาษา จากสถาบันอุดมศึกษาทั้งในประเทศและต่างประเทศที่สำนักงานคณะกรรมการการอุดมศึกษารับรอง ได้คะแนนเฉลี่ยสะสมตลอดหลักสูตรระดับเกียรตินิยม

สำเร็จการศึกษาในระดับปริญญาโท สาขาภาษาศาสตร์ หรือปริญญาโท สาขาอื่นๆ ที่เกี่ยวข้องกับภาษา จากสถาบันอุดมศึกษาทั้งในประเทศและต่างประเทศที่สำนักงานคณะกรรมการการอุดมศึกษารับรอง โดยได้แต้มระดับคะแนนเฉลี่ยสะสมตลอดหลักสูตรไม่ต่ำกว่า 3.50

มีประสบการณ์วิจัยด้านภาษาศาสตร์ หรือที่เกี่ยวข้องไม่น้อยกว่า ๑ ปี มีผลงานตีพิมพ์ในวารสารวิชาการระดับชาติ หรือนานาชาติ อย่างน้อย ๑ ผลงาน หรือ นำเสนอผลงานวิชาการเวทีระดับชาติ หรือนานาชาติ ที่มีการจัดพิมพ์เอกสารประกอบการประชุมที่มีผู้ประเมิน (peer review proceedings) อย่างน้อย 1 ผลงาน

ผู้สมัครเข้าศึกษาที่มีคุณสมบัตินอกเหนือจากเกณฑ์ดังกล่าวนี้ อาจได้รับการพิจารณาให้สมัครเข้ารับการคัดเลือกเข้าศึกษาได้ ตามดุลยพินิจของประธานหลักสูตร และคณบดีบัณฑิตวิทยาลัย

มีผลการสอบภาษาอังกฤษตามเกณฑ์ที่บัณฑิตวิทยาลัย มหาวิทยาลัยกำหนด
Application documents
photograph
copy of degree certificate/certificate of student status
copy of transcript / grade report in English
ID card copy
copy of house registration
evidence showing the request for documents or proof of delivery of academic results throughout the course (transcript) in English and in case of graduation abroad, please include certificate of equivalence of education qualifications.
Statement of Purpose (if any)
concept paper
Contact Information
Program Director
Assistant Professor Dr. Mayuree Thawornpat
mayuree.tha@mahidol.ac.th